Ubud and the surrounding area aren't that large, but it does take some time to get around because of the narrow roads and traffic. We've listed the best things to do around Ubud and separated them into their respective areas to make it easier to plan out your itinerary.
The book and movie, Eat Pray Love, increased Bali's already growing popularity among travelers and tourists. Ubud isn't a party central town like Kuta, but it has experienced a spike in traffic and visitors. We've included some of the popular sites and things to do in Ubud on our list – and some lesser known but still amazing places as well.
Before visiting Bali, you can learn about Indonesian culture and customs from this book. Get into relaxation mode and listen to the music of Bali by adding this album to your travel soundtrack.
Sacred Monkey Forest Sanctuary
Open: 8:30 AM - 6 PM (Last entry at 5:30 PM)
Entry Fee / Tickets: Adult 80,000 IDR (approx. US$5.65) / Child 60,000 IDR (approx. US$4.25)
With well over 600 Balinese long-tailed macaques in the Monkey Forest, there are plenty of opportunities to see and interact with them. Don't bring any food into the Monkey Forest, and check any plastic or paper bags you may have at the ticket counters. While the monkeys are definitely the main attraction, take time to look around and admire the beautiful forest and temples within the sanctuary.
Ubud Palace
Open: 8 AM - 6 PM
Entry Fee / Tickets: FREE
Daytime entry is free, and you may be lucky enough to catch a free dance performance or practice. There didn't seem to be a strict dress code to enter, many people were in shorts, tank tops, and sandals/flip-flops.
Ubud Dance Performances
Open: 7:30 PM - 9 PM
Entry Fee / Ticket: 100,000 IDR
Most of the week there are Legong dance performances, but on Tuesdays they have Ramayana Ballet. Get there about 30-45 minutes early to snag a good seat.
Cafe Wayan
Open: 8 AM - 10:30 PM
They serve all-day breakfast, and also have an extensive menu of Balinese, Thai, Western, and vegetarian dishes. The vegetarian/vegan dishes are the best priced. Be sure to explore the restaurant grounds – there are many private seating areas mixed in with fountains, ponds, and statues set in the peaceful, tropical atmosphere.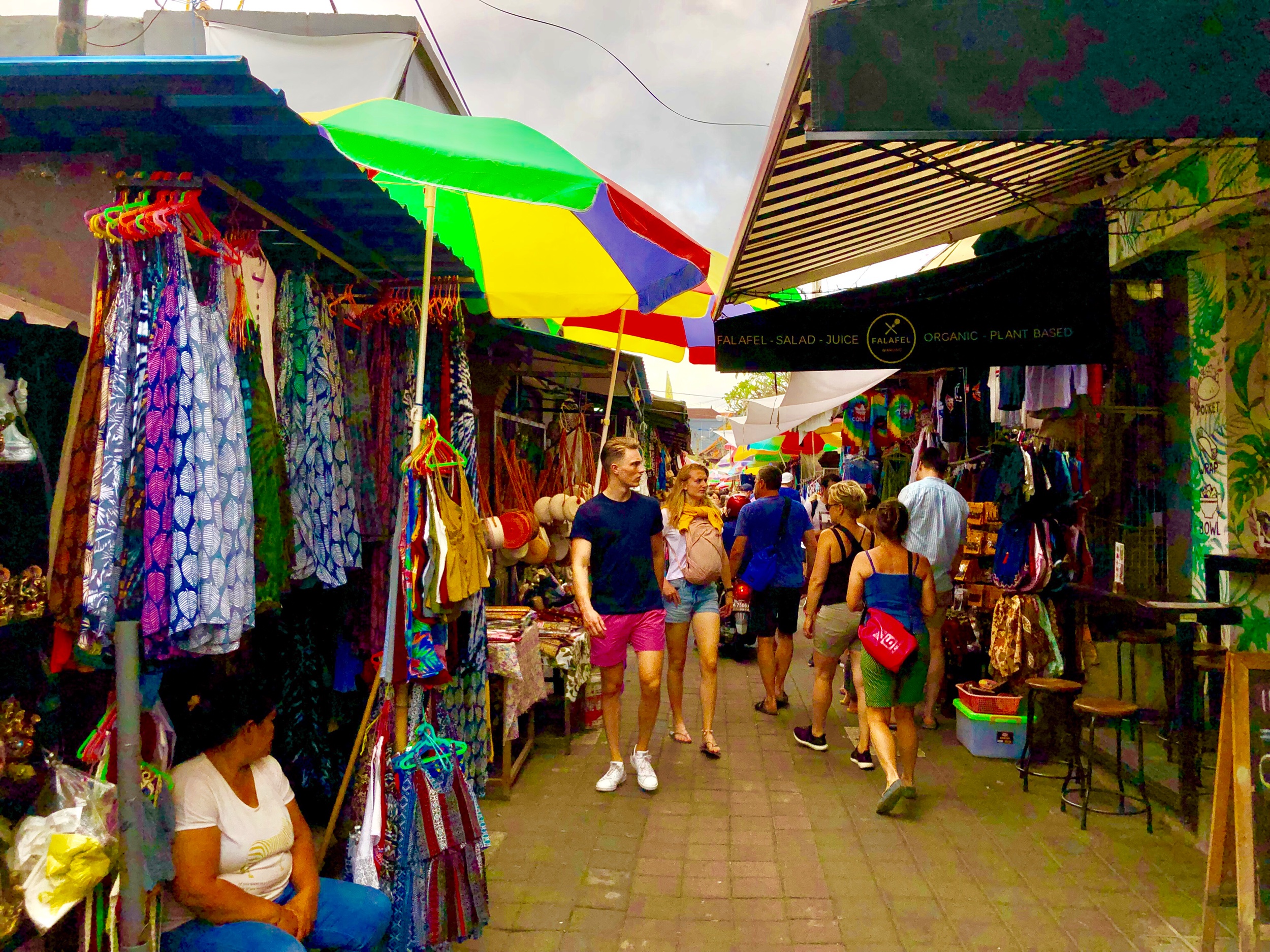 Ubud Market
Open: around 6 AM - 6 PM
Since we travel endlessly, our bags can't carry souvenirs so we don't go to markets to buy. But if you're looking for souvenirs and wanting to get the best price, we'd recommend getting to the market as early as possible. It gets much busier around 9 AM as the market fills with more tourists than locals. You're likely to find whatever you're looking for here from sarongs to ukuleles to woven basket purses.
Museum Puri Lukisan
Open: 9 AM - 6 PM
Entry Fee/Tickets: 85,000 IDR
The oldest art museum in Bali is Puri Lukisan. Puri means Palace, and Lukisan means Paintings, very fitting for this art museum full of Balinese paintings from the 1930s through present day.
Campuhan Ridge Walk
A fairly easy 1.5-2km hike away from the busy streets of Ubud. Most of the path is open only to pedestrians and is easy to navigate once you find the entrance. There aren't any places for shade from the sun though, so try to avoid going in midday. The walk towards Karsa Cafe & Spa is uphill, so it's easier when you go back towards Ubud since it will all be downhill. Find the entrance near Warwick IBAH, and follow the signs guiding you to Karsa Cafe.
Balinese Massage at Karsa Spa
If you go on the Campuhan Ridge Walk, a popular place to stop and have lunch is at Karsa Cafe. They also have a spa there with various massages starting at 120,000 IDR. A traditional Balinese Massage starts at 220,000 IDR (approx. $16 USD) for 60 minutes. Karsa Spa has become more well-known recently, so you'll need to book a reservation if you want to get a massage there.
Subak Juwuk Manis / Kajeng Rice Fields walk
Subak Juwuk Manis or the "magical rice fields ubud" walk is not as popular as Campuhan (yet), so it still has that off the beaten path feeling. We happened upon it on accident, and were very happy we decided to follow the signs to the magical rice fields on a whim. It's hard to believe that there are such large areas of rice fields right next to the busy center of Ubud.
Sweet Orange Warung
Subak Juwuk Manis connects to the Kajeng Rice Fields walk and loops back around to the main streets of Ubud. Just before the walk starts to curve back around, there is a warung in the middle of the rice fields. Despite the walk being fairly free of other tourists, Sweet Orange Warung was pretty busy. The food was delicious, and portions just right. TIP: The vegetables/salads are organic and pesticide-free, which is healthier but also means there may be unwanted guests in your salad. Check your food carefully before consuming!
Pura Dalem Kecak Fire Dance (Ubud)
Entry Fee/Tickets: 100,000 IDR
Located down the road from Ubud Palace, Pura Dalem hosts a Kecak Dance performance twice a week on Mondays and Fridays at 7:30 PM. Get there around 6:45 PM to get a good seat. Kecak Dance or "Monkey-chant Dance" started in the 1930s as a dramatic spin-off of a Balinese ancient ritual called 'sanghyang'. Learn more about the origins here. You can purchase tickets at the entrance, or from one of the many ticket sellers on the main road and in front of Ubud Palace.
Ketut Liyer House
Eat Pray Love, the popular book and movie by Elizabeth Gilbert, featured a Balinese medicine man named Ketut Liyer. He passed away in 2016, but his son has taken over and does palm readings at the Liyer House. They also have 12 guestrooms, full spa, pool, and restaurant. Expect to pay around 300,000 IDR if you decide to do a reading.
Not sure where to stay in Ubud, Bali?
Tirta Empul Temple
Open: 9 AM - 5 PM
Entry Fee / Tickets: 50,000 IDR
To enter the temple area where the water purification showers and pools are, you'll need to wear a sarong. Both men and women are required to wear a sarong, but if you don't have one, you can borrow one for free at the entrance. They will even help you tie them around your waist if you need help. For women, there are additional guidelines. To enter the inner courtyard, women must have their hair tied back. They also ask that if you are currently menstruating that you would not enter the sacred pools or temple area.
Pura Mengening
This temple and the purification pools are not as big as Tirta Empul. It's also not as crowded, and in my opinion, more beautiful. I almost don't want to share this gem of a find, because over-tourism is real and taking over most of Bali. This temple is still quiet and peaceful, used by locals, and only asks for a donation from tourists instead of charging an entrance fee. The purification pools are separated for men and women and there are additional bathing pools on the other side of the walkway.
Tegalalang Rice Terraces
The village of Tegalalang has many rice terraces, but the famous ones are on steep hills and now surrounded by souvenir shops along the road above. There aren't many areas with shade to protect you from the hot Bali sun, so get there early or late in the day. You'll miss the heat of the afternoon sun, and the crowds of people. Expect to pay at least 10,000 IDR/person to enter.
If you enter on the middle/left side of the terraces you'll see more stands and huts asking for donations, and locals dressed like rice paddy workers (even when the rice has already been harvested) offering pictures with them for a fee. If you enter on the right side of the terraces, the view isn't quite as good but there are less tourists and no donation huts.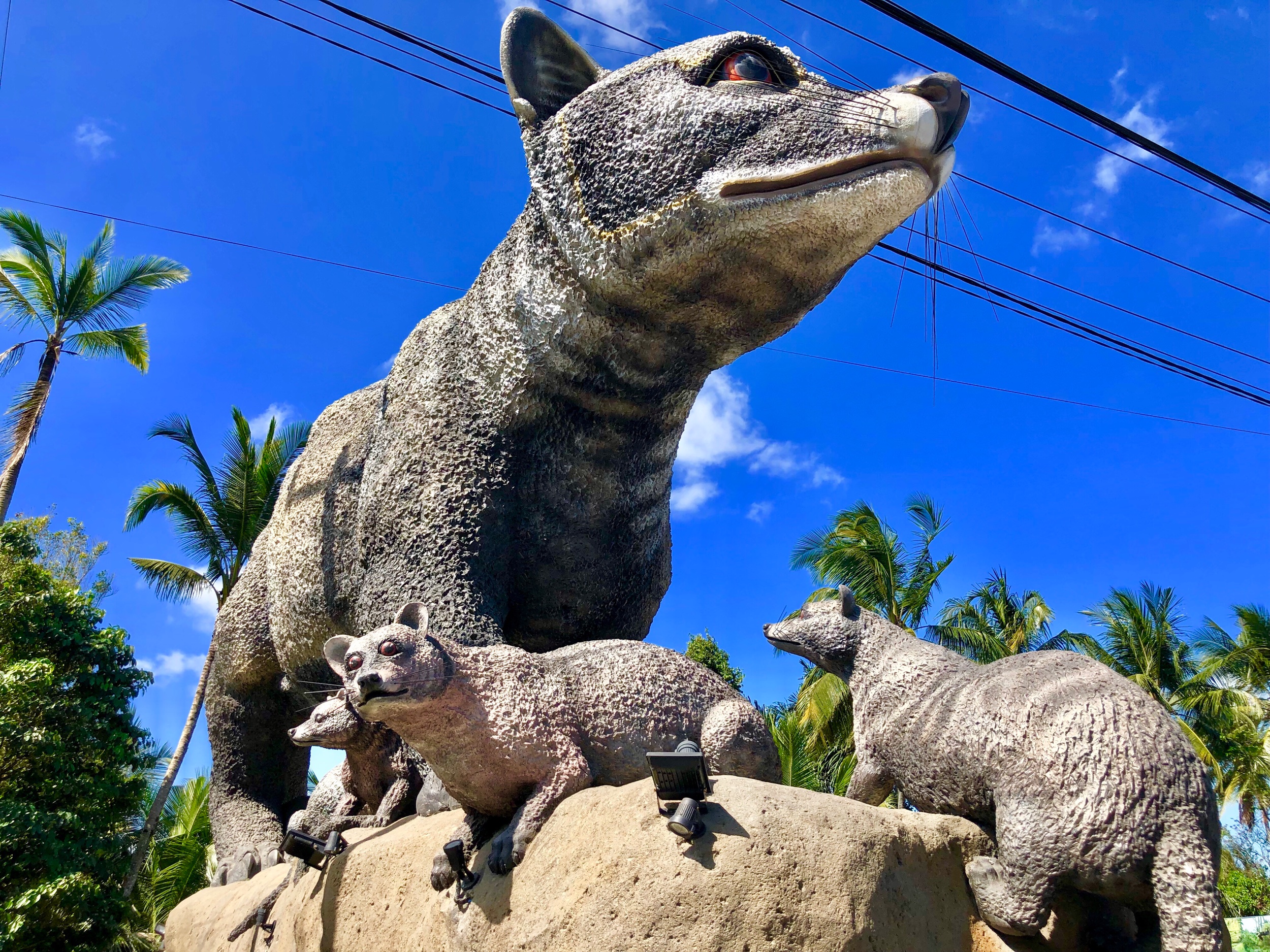 Kopi Luwak
We added this to our list because we were recommended by many people before coming to Bali to try Kopi Luwak – coffee made from beans eaten and digested by Asian Palm Civets. Unfortunately, it's difficult to determine if what you're ordering is actually Kopi Luwak, or not. See our article on things you should know before visiting Bali for more details.
Goa Gajah
Open: 8 AM - 4:00 PM
Entry Fee/Tickets: 50,000 IDR
Goa Gajah may mean "Elephant Cave" but there are no live elephants nearby. It is thought to be named after a stone statue in the temple, or the main carving to the entrance of the cave. The cave is small and has a strong smell of incense. But the temple grounds are gorgeous and include a waterfall. Sarongs are required to enter, but they have free rentals at the entrance. If you're not interested in purchasing a sarong from one of the many shops outside, just say "no, thank you, I already have one" and keep walking when the salespeople approach you.
Tegenungan Waterfall (Blangsinga Waterfall)
Open: 7 AM - 6 PM
Entry Fee/Tickets: 20,000 IDR
The waterfall is between Tegenungan and Blangsinga so depending on which side of the river you enter from, the signs for the name of the waterfall will be different. The Blangsinga side has two restaurants at the top overlooking the waterfall and river, The MOOI River Valley, and D'Tukad River Club Bali. Both restaurants have pools and swings, but the view from D'Tukad is a bit better. Some people waded out into the water below the waterfall, but there are signs warning of the strong current so we'd advise against going into the water and just enjoy the view.
Krisna Oleh Oleh Bali Souvenir Shop
Open: 8 AM - 10 PM
Across the street from the Blangsinga parking lot is the Krisna Bali Souvenir Shop. It is a warehouse shop full of Bali souvenirs – keychains, magnets, chocolates, candies, soaps, purses, sarongs, and t-shirts. There is also a small fast-casual restaurant and convenience store, a children's playground, a couple of rice fields, and a small menagerie on site.
Going on vacation to Ubud in Bali? Check out our other Bali posts to help you plan your trip!
Where to stay in Ubud, Bali
Thanks for reading! Please check out some of our other blog posts by searching our site for your favorite destinations (using our site search bar). It's easy and fun :) If you've found this article to be helpful, or if you have any questions, please let us know in the comments section at the bottom of the post.
We work hard to bring you quality posts like this one. Please help us out by signing up for our email list (to be updated occasionally on our newest posts), share this post with your friends, or simply follow us on Facebook, Instagram, Pinterest, Twitter, or YouTube. If you're having a hard time getting out of the door to travel (whether its due to lack of money, inability to find time, exhaustion from planning, or trying to travel as a parent) or if you want to travel as your career, check out our main page! Thanks again for your support!
Respectfully,
Jenny & Bradley of EatWanderExplore
SAVE EVEN MORE!
For additional savings when booking your trip on flights, hotels, bed & breakfasts, cars, tours, travel bags, airport lounge access and more, check out our
Best Travel Deals
page!
We even offer FREE travel consultations to help you find the best deals for your specific travel dates and location! We'll find the deals and you can choose to use them. Absolutly no pressure! Set up your consultation on our
Appointment Page
.